Equipment Name: Metail Coil Color coating line
Color Coating Line is a processing of coating sheet with organic paint. The coated sheet has good characteristic of printing, forming, corrosion resistance and decoration, and it still keeps the performance of high strength and deformability. The production of color coating sheet with high quality and multi-function develops recently, and the sheet with high corrosion resistance, high deformability, fingerprint resistance and microbial resistance will share part of market.

color coating line is capable of producing high-quality color-coated steel sheet with high levels of productivity, at a maximum speed of 120 m/min. The Doctor Coater that applies coating to the steel sheet is configured with three rolls: a pick-up roll, a metering roll, and an applicator roll. This robust device obtains excellent coating weight uniformity and surface appearance, even during high-speed passing. Additionally, roping that occurs when using highly thixotropic coating materials is controlled by the Doctor Bar, enabling a beautiful coating to be achieved. A regeneration-type oven is employed for sintering of the coating, reducing the coating-related running costs and environmental impact.
Metal strip is coated using multi-layer technology to meet visual requirements on the one hand by applying different colors, and to protect the final product on the other hand against corrosion, chemicals, UV radiation, and mechanical scratches.

1. Equipment Layout
Open-book unit haul car → unwinding pinch machine shearing machine welding machine → tension machine → unit before the storage material in the device on the washing machine → tension machine → hot-air purge device → chemical vapor roller coating machine → tension machine → drying oven in the unit on the machine → primer paint curing ovens, air-cooled unit → water cooling device in the device on the machine → topcoat paint curing ovens, air-cooling device → tension machine → Water Cooled After the material storage unit shearing machine → tension machine → Export → pinch machine winding unit → haul car.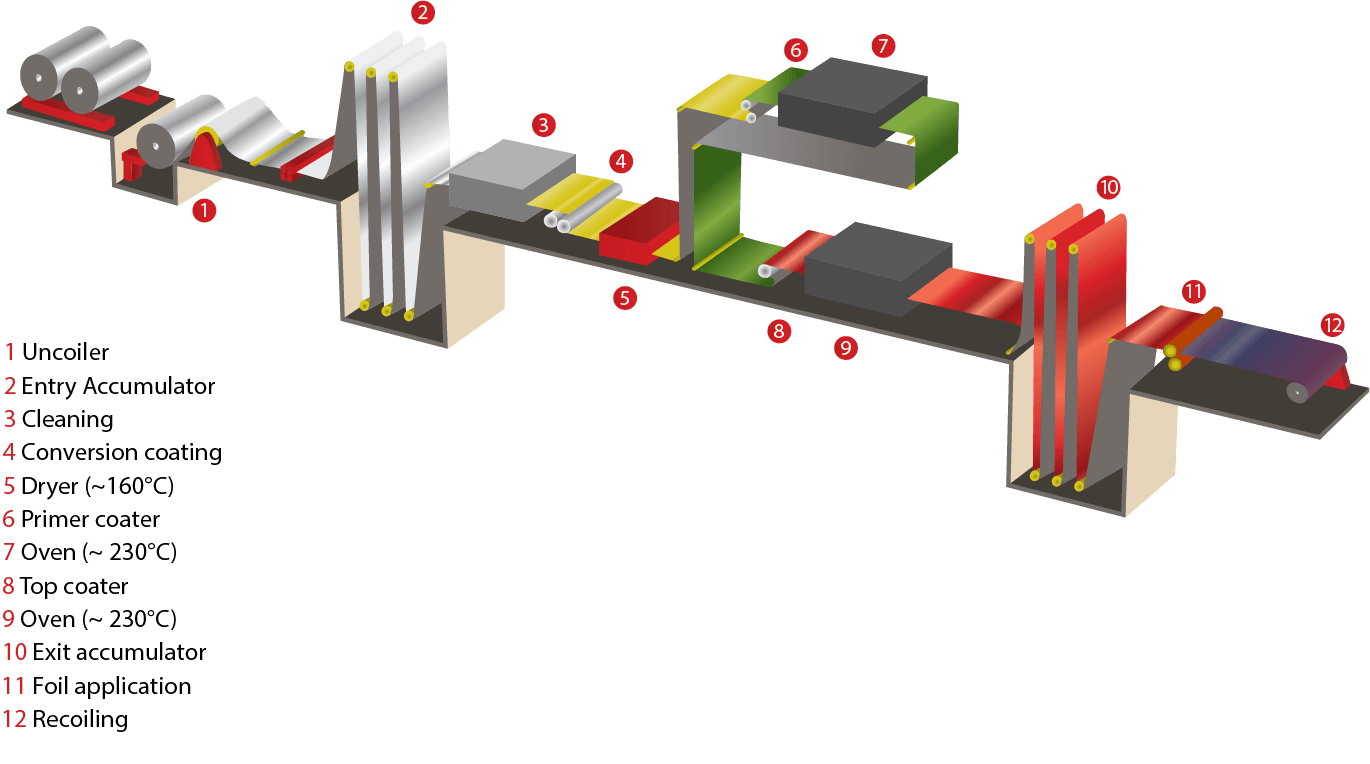 2. Main Technical
ITEM

PARAMETER

VALUE

1

Raw material

Galvanized steel coil, aluminum zinc coil, aluminum coil

2

Coil weight

Max 15 tons/ roll

3

Final weight

Max 8 tons/ roll

4

Coil OD

Raw material: φ508-1400mm

Final product: φ508-1200mm

5

Coil ID

Raw material: φ508mm

Final product: φ508mm

6

Coil thickness

0.16-0.7mm, 0.2-1.2mm, 0.5-1.5mm, 0.8-2.0mm

7

Coil width

800-1250mm

8

Line speed

Rated 120m/min, max 300m/min

9

Thermal sourse

Water, electric, natural gas

10

Roll-coating process

Twin coats on the front and back

11

Speed at entrance-loop inlet

& exit-loop outlet

15-150m/min customized

12

Front max 40μm, back max 15μm

13

Final product standard

China GB/T 12754-2006

14

Width deviation

≤±2.0mm

15

Line Capacity

Max 150,000 tons/ year

16

Line direction

customized